West Palm Beach Business Lawyers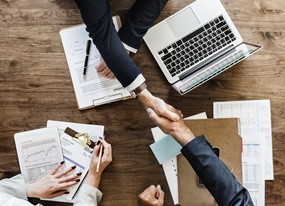 Attorney Ryan S. Shipp and his team of associate attorneys represent individuals and corporate clients conducting business in a wide range of areas in West Palm Beach and throughout South Florida.

Throughout his career, Attorney Shipp has dealt with clients that are involved in a variety of commercial, contractual, and personal business disputes. Attorney Shipp zealously protects your interests, advocates for you, and seeks the most favorable resolution of your legal matter.

Whether you are anticipating a dispute, involved in a breach of contract claim, negotiating a contract, setting up a corporation, limited liability company or headed for litigation, there is no better weapon in your arsenal than the professional and skilled Attorney Ryan Shipp. A judgment in a civil case can have a devastating impact on your business, your reputation, and your bottom line. The experienced West Palm Beach Florida Business Lawyers at The Law Office of Ryan S. Shipp, PLLC have you covered. Call us today to learn more about our services and to see how we can help you.
What We Do
Palm Beach County Business Lawyers


Florida Business Formation & Dissolution
Florida Business Acquisition - Disposition
Florida Shareholders Agreements
Florida Operating Agreements
Florida Partnership Agreements
Florida Buy-Sell Agreements
For Sale By Owner
Florida Contract Drafting and Negotiation
Florida Employment Agreements
Florida Non-Competition Agreements
Florida Confidentiality Agreements
Florida Breach of Contract Litigation
Florida Buyer and Seller Representation
Florida Business Forms Preparation
Commercial Evictions
Links to our Florida Legal Business Blogs
Lantana Business Lawyers | Lantana Business Attorneys | Lake Worth Business Attorneys | West Palm Beach Business Lawyers | Alachua County Business Lawyers | Baker County Business Lawyers | Bay County Business Lawyers | Bradford County Business Lawyers | Brevard County Business Lawyers | Broward County Business Lawyers | Calhoun County Business Lawyers | Charlotte County Business Lawyers | Citrus County Business Lawyers | Clay County Business Lawyers | Collier County Business Lawyers | Columbia County Business Lawyers | DeSoto County Business Lawyers | Dixie County Business Lawyers | Duval County Business Lawyers | Escambia County Business Lawyers | Flagler County Business Lawyers | Franklin County Business Lawyers | Gadsden County Business Lawyers | Gilchrist County Business Lawyers | Glades County Business Lawyers | Gulf County Business Lawyers | Hamilton County Business Lawyers | Hardee County Business Lawyers | Hendry County Business Lawyers | Hernando County Business Lawyers | Highlands County Business Lawyers | Hillsborough County Business Lawyers | Holmes County Business Lawyers | Indian River County Business Lawyers | Jackson County Business Lawyers | Jefferson County Business Lawyers | Lafayette County Business Lawyers | Lake County Business Lawyers | Lee County Business Lawyers | Leon County Business Lawyers | Levy County Business Lawyers | Liberty County Business Lawyers | Madison County Business Lawyers | Manatee County Business Lawyers | Marion County Business Lawyers | Martin County Business Lawyers | Miami-Dade County Business Lawyers | Monroe County Business Lawyers | Nassau County Business Lawyers | Okaloosa County Business Lawyers | Okeechobee County Business Lawyers | Orange County Business Lawyers | Osceola County Business Lawyers | Palm Beach County Business Lawyers | Pasco County Business Lawyers | Pinellas County Business Lawyers | Polk County Business Lawyers | Putnam County Business Lawyers | St. Johns County Business Lawyers | St. Lucie County Business Lawyers | Santa Rosa County Business Lawyers | Sarasota County Business Lawyers | Seminole County Business Lawyers | Sumter County Business Lawyers | Suwannee County Business Lawyers | Taylor County Business Lawyers | Union County Business Lawyers | Volusia County Business Lawyers | Wakulla County Business Lawyers | Walton County Business Lawyers | Washington County Business Lawyers | Florida Business Lawyers